Why go from Seattle to White Pass, to Bluewood, to 49° North, to Mt. Spokane, and to Mission Ridge? The more appropriate question for all of us west-siders is, "Why not?"
With this route, none of these areas are more than four hours apart. Think of it as a ski cruise with wonderful people, great food, beautiful scenery, and great skiing at each "port of call". Between destinations, you'll see some of the most beautiful landscapes in the world—eastern Washington. Compared to most cruise ship cabins, the rooms, even at the cheaper motels I stayed in, are spacious and don't bob! If you use your PSIA member benefits carefully, you can keep lift ticket cost to near zero.
Not convinced this should be your next road trip? Read on! We left Seattle for Packwood about 5 pm and arrived about 9pm. There were lots of vacancies in town. But call months ahead, if you want to be on the mountain. They often sell out for the whole season.
White Pass is about a twenty minute drive from Packwood. An early breakfast on the mountain lets you savoir the mountain and lodge coming to life under the gaze of Mt. Rainier. The sun was brilliant and only a small cloud cap briefly topped Rainier. The surrounding hills stand out as a backcountry skier paradise. The new lifts double the terrain and even though we arrived the second day after a storm, there were plenty of stashes in the trees and off the sides of packed powder groomers. Before leaving the mountain, be sure to stop by Davey's Yurt below the base of chair 4. Maybe the great beer on tap explains why everyone is so friendly or maybe it's just White Pass.
Off to Dayton, but leave time for the sites along the way to Yakima, the Tri-Cities, and Walla Walla. Early March or later leaves lots of daylight. There are plenty of wine tasting opps. Wow! Are the sunsets always this fantastic in Eastern Washington? You can't miss the Laht Neppur (Drink to Life) Brewing Co. and Cellars in Waitsburg. There's a sign at the main intersection, "Warning: Brew Pub Ahead." I'd recommend the Toe Tingler Stout, but it will be gone by the time you get there. The brewmeister lost his award winning recipe. But he'll have something great for you, too, to take along a 34 oz. mason jar or a 32 oz. growler. The Waldon House Inn is a great B&B with large hot tub and free lift tickets with suite or room. There are a couple of motels in Dayton. It's about 30 minutes to Bluewood. Get there early to get your request in for the breakfast burrito. It's a local favorite and you'll need the extra time to eat it all before the lifts open. Check out the ski school for Doug. After the pm line up he gave Chelsea Moore his blessing to show me some of her favorite stashes. In the morning she had pointed out her favorite runs to me on the map after holding the door for me. It wasn't hard to guess she was a ski instructor. We could all take lessons on the customer service model from her. Take a hike to intersect the proposed new chair line. It's worth it especially if it's been snowing all morning! Bluewood is another great area for backcountry enthusiasts, but don't get lost. It's only four miles to Oregon!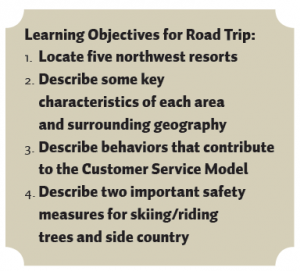 The Palouse is always fascinating to me. Winter wheat sprouting under a few inches of snow makes the fields a patchwork of green lawns and white blankets as the sun melts the south facing slopes. Pillow after pillow of patchwork beauty stretches out before you. Scoot through Spokane where you can hit a Costco just before leaving town. You don't have a co-pilot with a smart phone to find the cheapest gas? You may find basing in north Spokane an option. We drove the hour to Chewelah through the tail end of the weekend storm. I do have to recommend the Norlig Motel. Friendly owner, operators Paul and Andrea Tredeau offer Adrea's fresh muffins with the complimentary breakfast and discount vouchers for 49° North for non-PSIA members in your group. Wonderful folks are on staff and in the ski school. When I told the mountain host I wanted to ski trees, steeps and deep, he said, "Let me call Rose." Chair 5 was closed for winds, but Rose led me through trees off Chair 4 over and over and over! Of course, that increasing, untouched powder off Chair 5 beckoned us back for yet another day. Rose invited us to check out the Prime Timers group which meets on Tuesdays at 49° since we'd decided to stay the extra day. They started signing in early and are enthusiastic skiers and boarders who clearly enjoy sharing the love of the sport and stories.
I was introduced to Sherry, also a mountain host for the day, who had taught and patrolled in the Northwest. She was heading out so a couple of Prime Timers and I joined her. She accessed my skiing across the top of the mountain and decided we should just head out to Roller Coaster. Since it's the farthest out, it gave up untracked run after run. The rollers on the hill proved it was rightly named. Slight line adjustments proved to create delightful explorations of the powder and terrain. Of course, then we were off to some glades and trees. Sherry invited us to join the Prime Timers for their après ski in the bar. Two dollars for great appies and conversation! Some of the 49° North Prime Timers also belong to the Mt. Spokane Prime Timers. They said we absolutely had to hit Mt. Spokane tomorrow, Wednesday, since it is closed Monday and Tuesday and the snow had been coming down since Sunday. Also Wednesdays are Mt. Spokane Prime Timers' day.
Mt. Spokane has condos near the mountain, but it's only 30 minutes from several inexpensive motels on the north side of Spokane. True to plan, we arrived with two days of snow on the hill and more coming down. The Prime Timer's came to the rescue, but that's another story! Brad turned out to be a previous ski patroller, instructor, part-time ski shop salesman, retired firefighter, and proud participant in many heliski adventures. He knew the best tree runs with snow coming down and the best lines off the top as the weather cleared. At lunch a group headed out for some side country and I couldn't pass that up. Rob, leading the group, cautioned us to pick a partner and never lose sight of each other. As we started off the back side and into a wide glade, Mike and his partner made four turns, cut left into the trees, and I didn't see them until the bottom.
I headed down the gut of the meadow with a "V" of trees ahead and nothing but untracked ahead of me and the others to my right. As we hit the trees, I imagined the God of Powder had lined them up just for me. I howled with joy, encouraged by the group. To paraphrase Ben Franklin, "Because there's powder, I know there's a God who loves us and wants us to be happy." As we got to the trail back, Mike was being helped out of a creek by his partner. He must have thanked Brad three times on the hike out. Brad had insisted we stick with our partners and Mike knew he would have been in serious trouble with his. I'll remember those turns and friends forever. Thanks Mt. Spokane and Prime Timers.
The last leg of our cruise through eastern Washington was the trek on Highway 2 from Spokane to Wenatchee. Truly awesome! Snow on the Columbia plateau is phenomenal as the sun sets in late winter. Stop by Grand Coulee, if time allows. Our wheeled cruise through eastern Washington was a spectacular palette of vistas, valleys, gorges, and canyons. Wenatchee has plenty of motels, B&B's and restaurants and it's a short drive to Mission Ridge. Of course, (are your picking up the plan yet?) Mission had been closed Tuesday and Wednesday, and the snow had been piling up. Being early once again paid off. Although I waited 45 minutes in line for the lifts to open, I was 27th out of at least 150 lined up. The locals love their mountain and flock there on a day like this. I followed a group of four that looked serious and I was not disappointed. A powder morning at Mission can turn into an afternoon of spring skiing. The sun came out by noon. The mountain and surrounding terrain were gorgeous. As we were greeted at the beginning of our trip, Mt. Rainier also bid us farewell. And so we ended our ski cruise of eastern Washington.
Why would you? Five great areas, six days of fantastic skiing and riding, gorgeous scenery, wonderful people – Why not!
[note color="#FCFBDC"]Corrections: The instructor mentioned in the article at Bluewood is "Chelsea Moore" (not Brenda as mentioned in the printed newsletter) and the photo credit for the Bluewood photo should have read "Rosemary Cotter"[/note]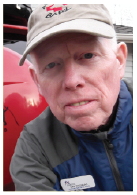 Ray is a PSIA Level III Alpine instructor with Summit Learning Center. He has skied over 60 different ski areas in North America. He doesn't claim to have invented the road trip, but is committed to perfecting it. Email rayt@u.washington.edu