by David Beckwith
In these troubling economic times people are becoming increasingly thrifty and are very selective as to where they are spending their disposable income. Expectations are rising. Whether it is money or time, people are seeking a higher return on their investment. Needless to say this will impact our sport, but the snow will fall and people will continue to look to escape to the mountains. Will you be ready to heed the call?
Whether you've identified it in the past or not, instructors can be a very influential force, effecting not only the guest experience but the bottom line of a resort. When you step onto the snow you're not just selling a lesson you are selling a sport, a passion, and a lifestyle. Here are a few tips to help guide your selling success on the slopes:
Understand the Total Guest Value
The time spent with a guest on the snow is only a portion of the potential impact they can have on our sport. Understanding the total guest value can help broaden our scope and depth of understanding the impact our participants have on our industry as a whole. When you consider the impact of multiple visits, positive word of mouth referrals, and peripheral purchases (retail, rentals, food & beverage, travel planning, etc.) the ski school student has a value that reaches far past the ski school.
Know Your Stuff
Know your products and amenities. This way you can speak from the heart when iterating on all your mountain has to offer. Carry your mountain brochures so you have info to reference. If you don't know the answer to a guests' question- find out. Speak confidently and competently on your sport. Be the consummate snow sports professional.
Share Your Enthusiasm
Whether you're outgoing and energetic or laid back and reserve we all share a common passion for sliding on snow and connecting with people. Share your enthusiasm for what you do in a genuine manner and your guests will be sure to gravitate to you.
Positive Energy Equate to Positive Results
Positive words build opportunities; negative words can leave a trail of destruction. Commit yourself to operating with the highest degree of integrity each time you step on the snow. Respect your profession.
Be a Lifelong Learner
By continually expanding your outlook you'll be able to connect with individuals on different levels. Whatever your interest maybe, you'll be best served by continually expanding your knowledge. People want to relate to people. By being a student of the world you'll have more opportunities to connect with guests no matter how diverse they may be.
Learn and Respect How Your Guest Prefers To Communicate
Guests want to talk. Listen. Get a feel for their communication style and what inspired them to take a lesson. Ask them what they want out of the lesson. Ask open ended questions, put your ego and agenda on the back burner, and you're sure to get to the root of what a guest is looking for in their lesson in no time.
Let Go of Tactics and Develop Personal Judgment Skills
Using personal judgment skills means trusting yourself to say the right thing in the right way. These skills come from doing an accurate assessment of your guest, knowing your stuff (programs, products, teaching skills) and then answering directly how your product can link the two. With guest focused selling you have to let go of the need for manipulation and trust the process of working with your guest.
When you step onto the snow you're not just selling a lesson you,re selling a sport, a passion, and a lifestyle.
Plant Triggers, Leave Footprints
No, I'm not talking about a horticulture adventure into arms dealing. Plant "triggers" or reasons why people should take a lesson with you. Leaving footprints consists of favorable impressions. Make yourself easy to work with. Use the methods that are most appealing to your personality and style, whether it be phone calls, emails, social networking sites, etc.
Create a Story
How often have we exchanged tales of our escapades on the slopes at the end of the day? Consider the power and the impact that some of these stories may have had on your snow sports experiences. Referrals and word of mouth can be very powerful. We'll often recommend a good mechanic, restaurant, or movie, or we'll advise our friends to steer clear if we've had negative experiences. Consider the impact a good story tied to a positive referral has had on you in the past. Take your guest beyond an experience and help them create a memorable story.
Always Create a Next Step
Always summarize the status of your guest at the end of a lesson and create a statement of what your guest will do the next time you are together. By creating an "aspirational" value guests will be intrinsically driven to return and it creates a pathway of opportunity and success for their snow sport experiences.
This just scratches the surface. For more info check out Streetwise – Customer Focused Selling by Nancy J. Stephens with Bob Adams. What's the driver behind all of this you may wonder? It's not to create a snow sports sales force with the tenacity of a door to door salesperson. The bean counters at our respective resorts would appreciate this, but it runs much deeper than the seasonal bottom line. These efforts will create memorable connections with our participants that reach beyond the slopes.
By creating these types of experiences we keep people engaged. Most importantly, this perpetuates our sport keeping us on the snow doing what we love to do. I encourage you all to employ some of these tactics when teaching this winter. Help sustain your industry; I'm sure you'll create some new stories of your own along the way.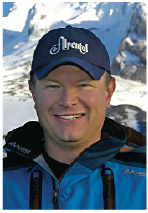 Dave Beckwith was the Snowsports Director for the Summit at Snoqualmie and past Alpine DCL for PSIA-NW. A former Tech Team member and examiner for PSIA-W, Dave got his start teaching skiing and snowboarding with PSIA-E over 20 years ago. David has recently returned to the east as the Snowsports School Director at Killington, VT.