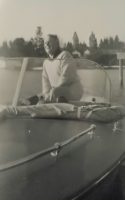 This award recognizes those senior members in good standing who give a lifelong commitment to the development and/or history of snowsports including instructing, service on the board of directors, writing technical or feature articles for publications, etc.
Who was Larry Linnane?
Larry Linnane, Legend.
Larry spent most of his life in or around the mountains. He started skiing in 1934, skied Snoqualmie Pass in 1934 and '35, then went to Paradise in '36, '37 and '38. He worked most of the winter at Paradise Lodge and worked the summers of '36, '37 and '38 making $30 a month with room and board and $1 extra for singing solos on the entertainment program. Larry began teaching for the Times Ski School at the Milwaukee Ski Bowl in 1938 with Ken Syverson as Director. Larry was Certified in the second Certification Exam in 1940 and carried National Certification Number 4. During World War II he skied with his brother-in-law, Max Sarchett, at Mt. Baker. In 1942 Max was stationed at Mt. Baker as a Plane Spotter and when the plane business was slow they would teach skiing. That was the start of Ski Klasses Incorporated.
After the war Larry started transporting students by bus to Ski Acres and Snoqualmie Pass. Later the School operated Tuesday, Wednesday and Thursday at Crystal Mountain with weekends at Stevens Pass. When Stevens Pass started 7 day a week operation the school moved exclusively to Stevens. Larry was Director of Ski Klasses Inc until 1990 when he stepped back and turned over operation of SKI to Ronne and Sharon Linnane. He continued serving as Director Emeritus until 2006.
Larry worked for the Northern Pacific/Burlington Northern Railroad retiring in 1977 with 41 years of service. He also had a professional singing career and performed with the Seattle Symphony, in the Music Under the Stars productions at the Green Lake Aqua Theater sponsored by Greater Seattle, and on the original Christmas Ship for many years. He also sang solo and in the men's choir at St Joseph Parish and had a second profession singing at Catholic weddings and funerals and was popular for his Irish tenor voice. Larry began making annual treks to Sun Valley shortly after it started operations. After ski school classes were wrapped up for the season he would spend time skiing there. He made many lifelong friends there and would sing with the Ram Trio apres ski and evening shows at the Challenger Inn.He continued going to Sun Valley every year through the early 80's when he started running ski tours to Europe. The SKI groups were the first American tour groups to visit some locations.
Larry served on the PNSIA Board in the early years, then acted as the Seattle Region Ski School Representative on the BOD. Recipient of 1987 PSIA-NW Instructor of the Year Award, 1994 Service Award and 1994 Skiing Legends Award named in his honor. Larry and Ski Klasses Inc have contributed immeasurably to the snow sport industry and our Northwest ski areas. Larry inspired students and instructors many of whom became Tech Team members, Division Clinic Leaders and mentors for future instructors. He was a true pioneer of NW ski instruction and a father figure to many young people, and mentor to many adults. Ski Klasses Inc. has taught up to three generations of many families to ski over the years.
Larry continued skiing into his late eighties and was still riding the ski bus to Stevens Pass on Wednesdays singing, entertaining and enjoying another day at the mountain just months before he passed away at age 93.
Recipients of the Larry Linnane Skiing Legends Award (year awarded):
Larry Linnane* (1994), Martin Fopp*, Ariel Edmiston, Jim Lucas*, Joy Lucas* (1995), Shirley McDonald Fopp*, Loren Prescott*, Otto Ross, Ray Whitcher (1996), Joe Harlacher, Doris Harlacher, Robert Church*, Ellis Wickward (1997), Al Voltz, Gordon West (1998), Rich Nelson, Julie Fiorini*, Buzz Fiorini*, Mig Non Whitcher* (1999), Lenore Lyle, Jim Noonan*, George Savage* (2000), Lee Perry (2001), Bill Brockman*, Mary Jane Brockman*, Nobi Kano*, Jack Meissner* (2002), Harald Riise (2003), Buzz Fulton*, Leo Olson, Jack Weigand* (2004), Art Hathaway, Teresa Hathaway, Gary Carter* (2005), Jack Burns, Chet Murakami* (2007), Willie Grindstaff*, Jerry Coffey (2008), Ed Kane (2010), Keith Carpenter (2011), Wayne Nagai, Hans Reifer (2012), Marty O'Connor* (2013), Bobby Geiger (2014), Bob Christofferson* (2019), John Weston (2019)
*deceased