Designed to honor a member who has had a sustained history of distinguished service of lasting benefit to PSIA Northwest, their ski school or the local community or have performed an exceptional act worthy of special recognition.
Who is Art Audett?
Art Audett was hired as the ski school director at Lookout Pass back in the 40's. Part of his legacy there was the creation of the Lookout Pass Free Ski School, which is still in operation today as a 501.c.3 providing lessons to those in and around the Idaho/Montana border. He traveled west after Lookout and was the director for the Stevens Pass Alpine Club, at the time named the Green Hornets. After leaving Stevens Pass, Art took the job as the director of skiing at Crystal Mountain, WA.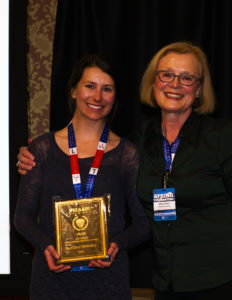 2019 recipient-Alicia O'Donnell (left) receiving her award from President Molly Fitch at Sun Valley. Alicia is an instructor at Stevens Pass.
Past Recipients of the Art Audett Outstanding Service Award:
Michael Brassey, Lenore Lyle (1982), Lou Lenihan* (1983), Jack Vill* (1984), Leo Olson, Bruce Ware (1985), Joy Lucas* (1986), Joe Harlacher (1987), Kathy Hand (1988), Lee Perry, David Whitmore (1989), Bob McDonald (1990), John Mohan (1991), Barbara Darrow (1992), Chris Thompson (1993), Kathy Hand, Larry Linnane*, Willa O'Connor* (1994), Doris Harlacher, Ed Kane, Jack Meissner* (1995), Chris Saario (1996), Mike Norton, John Weston (1997), Molly Fitch (1998), Andre Hirss* (1999), Amy Zahm, Nick McDonald (2000), Dave Lucas, Wally Scroggie* (2002), Art Hathaway (2003), Chris Kastner (2004), John Weston, Ken Hand (2005), Glenda Schuh (2008), Kim Petram (2009), Terry Johnson (2010), Maxine McIntyre (2011), Michael Peterson (2012), Andy Collin (2013), Fred Payne (2014), Tony Fardell (2015), Alicia O'Donnell (2019)
*deceased