The photo at the bottom of Page 30 of the Spring 2013 Newsletter incorrectly identified Russ Brown as Willie Grindstaff. Below is a correction that accurately points out Willie. Russ and Willie – we hope you get a chuckle out of that!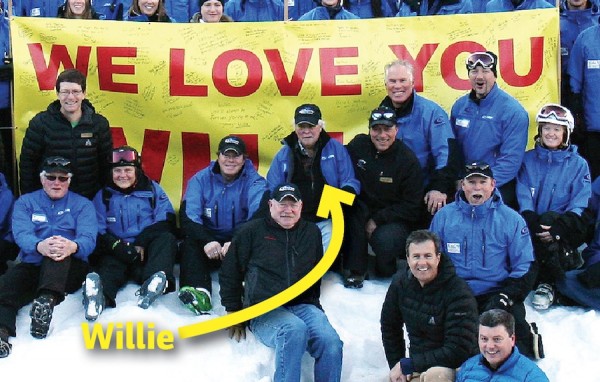 Full Text of Tribute by Ed Younglove
After 60 years of teaching snow sports Willie Grindstaff retired. Willie is already a skiing legend at Crystal Mountain where he has a run named after him – Willie's Run – and he was the 2009 PSIA-NW Larry Linnane Skiing Legends Award recipient. Willie started teaching with the US Army 10th Mountain Division on Mt. Rainier. He started teaching with the Olympia Ski School (then known as the Northwest Ski School) at White Pass in 1963. He moved with the Olympia Ski School to Crystal Mountain in the late 1960's. Willie got his Associate certification in 1970 and his Full Certification the next year. Willie was the Olympia Ski School Director for 25 years beginning in 1974.
In Olympia it is hard to find a skier who didn't take lessons with Willie at some point in time (and/or whose kids or parents didn't take lessons with Willie). But Willie is not a legend just because he has taught so many to ski. Willie is a legend because of his passion for skiing and for being in the mountains, for life. Willie's legend is that he has inspired so many to ski and to teach skiing. I have had the pleasure of skiing with some of the world's best skiers and clinicians. I have worked for two national team members and I have learned much from all of them. But Willie taught me how to have fun with my students and how to share the great joy we all get from being in the mountains, and sliding on the snow.
I have seen Willie with a class in pouring down rain somehow convince them that it's a "GREAT" day to be alive and to be skiing, in the rain. Willie has the most indomitable spirit I have ever known. I have never had a bad day of skiing with Willie, he wouldn't let me. Willie is the poster boy for "inspiring passion for the mountain experience." A bear of a man and a man who wore the "bear costume" in the Crystal children's ski area, Willie loves kids and they all love him. An adopted child, Willie is every kid's "Grandpa Willie." Adults, me included, came to ski in Willie's classes not just to improve their skiing, but just for the opportunity to spend time with him, to have fun. I became a ski instructor to be like Willie. Willie is a legend in northwest skiing, whether he received this award or not, but I was pleased to be able to formally recognize his legend status with this award.
Please add your comments about Willie below!