Are You New? Welcome Aboard!
Most new members have joined as a registered member preparing to successfully complete a Level I exam. If you have taken your Level I exam this season or last season, you are entitled to attend a New Pro? Let's Go! clinic. This welcome to the organization is all about having fun, learning about the organization you have joined and to go skiing or riding for the day. It's one of the coolest new benefits that the organization offers and it's all for just $25! Essentially you have the opportunity to spend the day with one of our Divisional Clinic Leaders who will help show you the way to maximizing your member benefits.
Remember, any certified PSIA-NW member must attend at least a one day education event each season (or a two day event every other season) to remain current and in good standing.  A full list of our events is on our event calender.
For new members, depending on when you joined this season, your annual dues will most likely not be due until June 30, of the next season (check with NW member services if you aren't sure, 206.244.8541 or info@psia-nw.org), so take full advantage of your new membership!
You can also see all the locations for the New Pro? Let's Go! clinic by going to the event calendar, found on the Education drop down menu.
New Pro? Let's Go! Clinic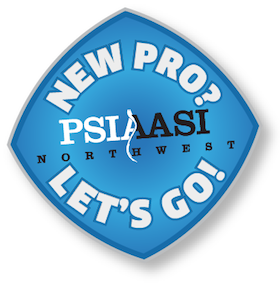 Check the season guide for dates and locations as your New Pro? Let's Go! clinic options extend until the end of your second season. Member benefits include special discount pricing on many products that ski and snowboard professionals use on a daily basis like skis or snowboards, soft goods like gloves, goggles, clothing, tuning tools, and even cars – yeah, that's right – a pro deal on a new Subaru. Be sure to check out all the special offers available to members like you here at www.psia-nw.org or www.thesnowpros.org.
New Instructor Guide
Welcome to teaching skiing and snowboarding! This New Snowsports Instructor Guide will introduce you to the profession of teaching snowsports. This guide will help you in your training as a new instructor and as you train toward the Professional Ski Instructors of America-American Association of Snowboard Instructors
(PSIA-AASI) Level I certification.
This New Snowsports Instructor Guide introduces you to PSIA-AASI models and concepts, used across all of the different snowsports that instructors teach. The intent of this guide is not to replace the manuals and resources that PSIA-AASI produces, rather it is to introduce these to you and guide you to more in-depth information about these topic areas. This Guide will not be the only resource you will need as you train; it provides you a way to track your personal progress in becoming a professional snowsports instructor and, if you decide, as you train towards your PSIA-AASI Level I certification.
DOWNLOAD NEW INSTRUCTOR GUIDE (PDF)