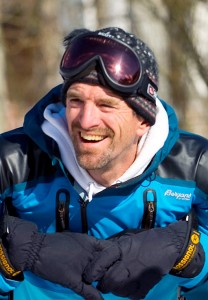 Marty O'Connor passed away in his sleep on Friday November 9th, 2012.  He leaves behind his wife of 31 years, Deanne and their four children, Leah, Corey, Haley and Morgan.
Marty was born in Seattle and grew up in Stanwood.  He graduated from Stanwood High School in 1976 and St. Martins University in 1980 with a BS in Civil Engineering.  He worked for PSE as an Engineer for 32 years.
Marty loved skiing and was a Level III PSIA Certified instructor, joining PSIA in the early 80's. As a child he grew up skiing at Stevens Pass, and later taught skiing and led certification training for John Mohan Skiing and Ski Masters Ski School at Snoqualmie Pass. Marty was an Alpine DCL, Alpine Examiner and former PSIA-NW Technical Team Member.
He was also a avid cyclist and rode for Cucina Fresca cycling team.  He enjoyed playing basketball on Sunday mornings and on a local team. He also loved to build/remodel and always had a project going.
We will cherish memories of him at Camano Island at the beach house; crabbing, laughing around the bonfires and competing in cribbage tournaments. He always had a cup of coffee in his hand.
A quote from a friend…
[quote align="center" color="#999999″]"I've always secretly believed that Marty was actually Clark Kent, and I know that the world won't be the same without your Superman"[/quote]
Marty was an amazing husband, father, uncle, son, brother and friend. We will miss him and his love of life and adventure.
[space height="10″]