ROBERT "BOB" CHRISTOFFERSON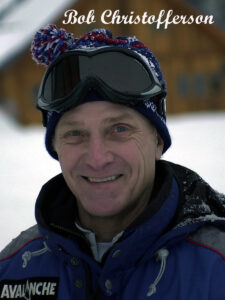 Robert "Bob" Christofferson passed away on March 3, 2020. Bob was a devoted husband, father, grandfather, and friend. He is survived by his loving wife of 42 years, Ginny, and their two sons Ryan and Brent, his daughter-in-law Julie, and two grandchildren Sofia and Rory.
Bob began skiing at age 13, after earning enough money from his paper route to buy his first pair of skis. He became an accomplished skier who spent his life on snow teaching for Fiorini Ski School at both Crystal Mountain and Snoqualmie Summit. He served Fiorini as a Supervisor, Technical Director, and Ski School Director. He joined PSIA in 1971, and attended countless PSIA events in an effort to learn the latest techniques, engage with fellow members, and to share his knowledge with others. Bob was passionate about teaching and training others to become better instructors, leading countless clinics after ski school on weekends, and after work on weekday evenings. He became a Level III Certified Instructor in 1985, and was awarded the Larry Linnane Skiing Legends Award on behalf of PSIA-Northwest in 2019.
In the early 1970's he became proficient in freestyle skiing, and could be found upside down doing back flips in Seattle's local newspapers. After retiring from his day job in the electrical and neon sign industry, Bob achieved a life-long goal of teaching for a destination resort at Northstar in North Lake Tahoe, California.
Bob was a dedicated family man and shared his love of skiing with his wife and sons, making winter activities a family affair. During the off-season Bob remained competitive and could be found coaching his sons' baseball teams, rooting for the Seattle Mariners, cycling with friends, and playing golf. When not on his skis, Bob enjoyed spending time on endless home improvement projects, family vacations, and sharing quality time with his family. He always wanted the best for his wife, kids, and grand-kids, and did everything he could to support their dreams. He shared with friends that he was looking forward to teaching his grandchildren how to ski when they were old enough, something they will now do with their loving grandfather in their hearts.
A celebration of Bob's life will be held in 2021, a date yet to be determined. It will be a fun event, reflective of Bob's love of life, family, and friends.
Photo Credit: Wayne Nagai