When:
June 26, 2020 @ 4:30 pm – 5:00 pm
2020-06-26T16:30:00-07:00
2020-06-26T17:00:00-07:00
Event Specific Info
Tickets: Not Applicable
Credits: None
Prerequisites
General: PSIA-AASI Membership
Registration Details
Online registration is not available at this time.
Offline registration is not available for this event.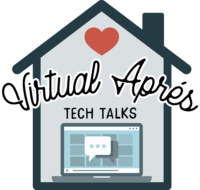 In prep, for this week's session please go to this link, it will take you to the Virtual Après Tech Talk Google drive folder. Look for the date of the meeting, which will have all the details, including the zoom conference information. All the meetings have been uploaded to this folder, so you're able to have everything easily at your fingertips. If you do not have a Google account, please click here for directions in how to set one up.
If you have questions for an upcoming special guest, topics you'd like to have covered, ideas or more; please email me at MelodieBuell@me.com and include Virtual Après Questions in the Subject line.
No registration needed, session will begin promptly at 4:30pm (Pacific), please join a few minutes early and remember to mute yourself so we don't have any background noise. Missed any sessions – just go to the calendar, click on the date and the information to listen/watch will be there. Or go to the google link above to find more details.