When:
April 21, 2018 – April 22, 2018
all-day
2018-04-21T00:00:00-07:00
2018-04-23T00:00:00-07:00
Where:
Mt. Hood Meadows
14040 Oregon 35
Mt Hood, OR 97041
USA

Cost:
Registration Closed $215
Event Specific Info
Tickets: Fully Supported by host area
Credits: 2-season credit for event
Prerequisites
General: Level II Certified
Specialist: Senior Specialist 1, one full season as a SS1
Additional: Other - see below
Online registration is now closed.
Offline registration is now closed.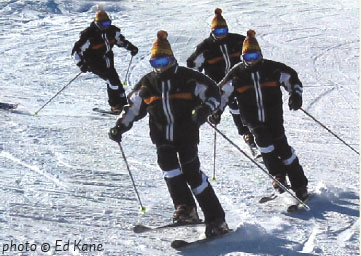 A two day course available to any Level II* or higher PSIA member who has successfully completed the SS 1 course one season or more prior to the SS 2. The SS 2 includes a teaching component and a rigorous curriculum focusing on the beginning through advanced skier applying concepts, tactics and theory specific to coaching the senior learner. This includes a deeper exploration into the cognitive and affective attributes of a senior as well as identification of movement pattern techniques for the advanced level skier. A SS 2 certificate is awarded based upon the degree of participation and understanding including the synthesis and evaluation of course material. 80% accuracy on the workbook and quiz is required two weeks before the on-snow event.
It is important to note the Senior Specialist program is an educational training opportunity, it is not an exam. However, there is an assessment component and a certificate will be awarded upon successful completion of the SS 1 and SS 2. It is assumed each participant will accept ownership of this material. Successful participants are expected to show an appropriate blending of skiing skills and an appropriate level of understanding of senior specific teaching knowledge and theory. Courses include written feedback and suggested personal goals for continued growth.
Please see the Senior Specialist section of this website.
PSIA-NW senior educational curriculum is being developed in cooperation with other divisions and eventually will likely be a National Standard for education, a certificate based program.