The PSIA‐NW magazine, "NW Snowsports Instructor", is published 3 times per season and distributed to the entire membership (currently more than 3000 members) by mail with current and back issues available for download free of charge on this website. The 8.5" x 11" magazine is printed in full color and is typically 24 to 32 pages in length featuring information, articles, events, and divisional and national news, which is specific and of interest to Northwest members.
Ad deadlines are generally as follows:
Fall Issue – Ad Reserve by Aug 1, Ad Materials by middle of August
Winter Issue – Ad Reserve by Nov.1, Ad Materials by end of November
Spring Issue – Ad Reserve by mid-March, Ad Materials by first week of April
For complete details download the Ad Rates and Specification Guide (PDF)
Download Ad Rates & Specifications Guide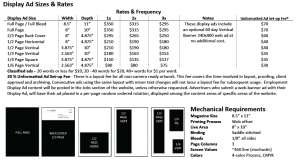 PSIA-AASI Online Job Board
Are you a PSIA-AASI member snowsports school looking to recruit new talent? Visit thesnowpros.org job board about posting your job openings online for members to view.